Joe South (b. 1940)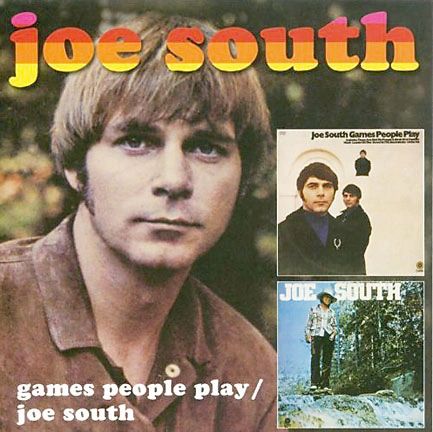 Performer and songwriter Joe South virtually created the genre of country soul through his unique blend of sounds and influences. Whether writing hits for country and rock-and-roll acts or singing his own songs, South was involved with some of the most popular music of the 1960s and 1970s.

Joseph Alfred Souter was born into a working-class family in Atlanta on February 28, 1940, and he grew up in Adamsville, in the southwest part of the city. He developed a love for country music at an early age while listening to radio station WSM out of Nashville, Tennessee. Saturday mornings were spent listening to Uncle Eb Brown, the radio persona of disc jockey Bill Lowery. Souter met Lowery at an Atlanta radio station, WGST, at the age of twelve, and a short time later, inspired by Lowery and taking a friend's advice, shortened his last name to South.
South grew up in a creative family. His father played guitar and mandolin around the house, while his mother produced a large collection of romantic poems. One of his earliest forays into songwriting was a collaboration with his mother that they performed on Uncle Eb Brown's radio show. Lowery became South's mentor, and as Lowery developed the National Recording Corporation, South, along with such other local musicians as Little Jimmy Dempsey, Paul Peek, Jerry Reed, and Ray Stevens, proceeded to place Atlanta on the recording map. They became Lowery's house band, learning studio craft and musical skills as they performed. South gained experience on the road by playing in the band of the country steel guitarist Pete Drake.
After high school South attended Southern Technical Institute (later Southern Polytechnic State University) for a while but dropped out to become a musician full-time.
With Lowery's support South had his first hit in 1958 with the single "Purple People Eater Meets the Witch Doctor," which made it to number forty-seven on the Billboard chart. South worked as a studio musician in Nashvilleand in Muscle Shoals, Alabama, during the early and mid-1960s, playing on recordings by such legendary musicians as Eddy Arnold, Aretha Franklin, Wilson Pickett, Marty Robbins, and Simon and Garfunkel.

A return to Atlanta to work in Lowery's new studio saw South producing and writing songs for The Tams and Billy Joe Royal. South's first number-one hit came in 1962 with a song he wrote for the Tams, "Untie Me." He also wrote Royal's 1965 hit, "Down in the Boondocks." By the end of the decade South's songs were some of the most recorded in the business. Simultaneously, such experiences as playing on Bob Dylan's 1966 album Blonde on Blonde had a profound effect on South and helped him find the confidence and originality to release his first solo album, Introspect, in 1968.

Although the album as a whole did not achieve commercial success, Introspect contained South's most successful song, "Games People Play." The song reached number twelve in the United States, but South's wider appeal was reflected in the single's top-ten rating in the United Kingdom. At the 1969 Grammy Awards "Games People Play" won both Song of the Year and Best Contemporary Song.

South continued to write hits for both himself and other musicians.Johnny Rivers had success with "These Are Not My People," as did Deep Purple with "Hush." Lynn Anderson's version of "(I Never Promised You a) Rose Garden" stayed at the number-one position in America for five weeks in 1970. South appeared on television shows, performed in Europe, and produced numerous albums in 1970 and 1971. Singles such as the nostalgic environmental warning "Don't It Make You Want to Go Home" and the timeless plea for racial equality, "Walk a Mile in My Shoes," maintained an international chart presence. Never comfortable as a live performer, South spent more and more time in the studio.

In 1971 South's brother and drummer, Tommy, committed suicide after struggling with drug addiction. While South retreated to Hawaii to grieve, Capitol Records released South's final album for the company in 1972, the dark, introspective A Look Inside. South emerged briefly in 1975 to release his final album, Midnight Rainbows, and he battled his own drug addiction . He recorded sporadically during the 1980s and 1990s but has largely remained reclusive.
Musicians and the music industry have paid tribute to South's work on numerous occasions. He was inducted into the Nashville Songwriters Foundation Hall of Fame in 1979 and the Georgia Music Hall of Fame in 1981. On the 1990 album Highwaymen 2, Johnny Cash makes reference to South in "Songs That Make a Difference." On the 1993 compilation Good Vibrations, the Beach Boys sing "it was out of sight/Joe South was singing/'Games People Play'" in the song "Games Two Can Play."




Source: georgiaencyclopedia.org / The New Georgia Encyclopedia. Used with written permission.