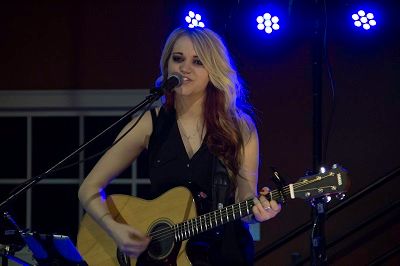 Photo Credit: David Duong / Pixelslick Designs
When music icon Sir Elton John believes your good.....trust me, you're good. After being
discovered by life-long musician and Grammy winning producer Matt Still ( credits include: Elton
John , Outkast, Lady Gaga, Jewel, Rod Stewart, Joss Stone, PNAU, Santana, Alice In Chains,
B.B. King, T.I., Nelly, Sevendust, Third Day, Bruce Hornsby, Ann Wilson, Steve Walsh, TLC,
Arrested Development, Brandi Carlile, and Stevie Wonder), he took Riley's work to Elton John
who was impressed with her music and talent. It would be Elton's worldwide management
company, Rocket Music, that would sign Riley to a multi-year contract.
Matt has since produced three of her original songs and has released two, "Justice" and "Polish
The In" to The Georgia Music Channel, which has both songs in airplay rotation.

Having written over 200 original songs in the last 18 months, and recently co-written with some
of the most successful songwriters like Kristian Bush (Sugarland), Lindy Robbins ( Demi Lovato,
Jason Derulo, Hot Chelle Rae, One Direction ) , Jamie Hartman, ( Jason Mraz, Joss Stone,
Christina Aguilera) Robbie Nevil, C'Est La Vie, High School Musical, Destiny's Child, Jessica
Simpson, John Fields (Jonas Brothers , Pink, Demi Lovato, Miley Cyrus) Matthew Wilder ( Kelly
Clarkson, Miley Cyrus, Christina Aguilera), Jimmy Harry (Madonna, Pink), and several other
songwriters, Riley Biederer at the age of 18 is emerging as the next Georgia music artist to
become a household name.
She's had numerous paid stage performances and been on the same stage as Sugarland,
.38 Special, Charlie Daniels & Lynyrd Skynyrd. She was honored by The Georgia Music
Hall of Fame with the prestigous Bill Lowery Horizon Award. Previous recipients of this award include Justin Bieber and Dianna DeGarmo. She opened The 2011 Annual John Jarrard
Foundation Foundation Concert performing before thousands who attended and performed
the opening song at the Orange Conference for Northpoint Ministries to more than 6000
attendees. She performed her original work and shared the stage with several prominent
Nashville names, like Kix Brooks at The Bluebird Cafe in Nashville before a standing room only
crowd. Her youtube channel has over 1.7 million views at the time of this article, with significant
increases in views daily - Riley Biederer Channel.

She's performed in Atlanta and other GA cities, Chicago, New York, Nashville & Los Angeles and
will be coming to a city near you soon. Stay tuned for more on Riley. This girl's making Georgia
proud with her tremendous songwriting talent, awesome voice and outstanding performance
capability.

"Riley's been in the studio recently and we're happy to be the first radio station to air a couple
of Riley's fully produced singles. We look forward to additional music released by her. We're
always proud to see Georgia music artists blossom", says Ron Holland at The Georgia Music
Channel. The recently produced singles include Sean O'Rourke (drums), Rick "Slip" Hinkle
(bass & lead guitar), Riley (vocals & acoustical guitar) and Matt Still (keyboards).

Riley was signed by Sony/ATV on her 18th birthday. The deal includes over 200 songs from her catalog of original music. She told Ron Holland with The Georgia Music Channel, "it's so amazing and I just got a new car because of that, so it's super amazing. I've been waiting to buy a car for like two years, so I finally got to." Sony/ATV is the world's largest publisher of music making the deal a huge opportunity for her songs to be picked up by other artists to be recorded while she continues to write more songs and perform."

Riley Biederer - "Who Do You Love" (Live)