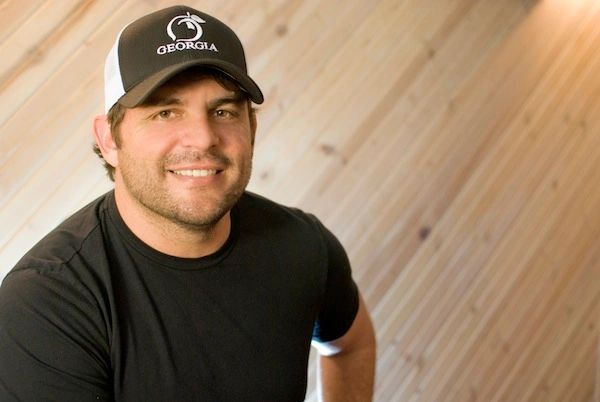 Some men are just born to be country singers. It has nothing to do with chart positions, signed deals or marketing plans. It has everything to do with a rowdy Friday night crowd singing along to a song you just wrote because they've immediately embraced the words. You've written about your life and theirs and the connection has nothing to do with music industry politics and everything to do with honest communication and gut reaction.
Just ask Rhett Akins. The talented singer/songwriter released a collection of songs, People Like Me, that reflect the life he leads on stage and off as a loving father, avid outdoorsman and a quintessential everyman who has much in common with the audiences he's been singing to for more than a decade. He is also working on current projects that include songs about being from the south and hunting. When he's not touring and hunting he's writing songs that have been recorded recently by Brooks & Dunn, Chris Cagle, Trent Wilmon and many more.
People love Akins and the honesty and integrity he brings to his music. He appreciates the connection fans have to his music because he's long dreamed of a life in the spotlight. "All I wanted to do was play football and sing and unfortunately your body wears out before your voice does," says the Georgia born singer/songwriter. "I played football until I was almost 20 years old, and my whole life was dedicated to that, but also my secret passion was to sing."
Akins moved to Nashville in 1992 and landed a songwriting deal with Sony Tree Publishing. Like many other Music Row newcomers, he began writing songs and singing demos. Those demos caught the attention of an executive at Decca Records and Akins was signed to a deal in 1994. From there, the young artist became one of country music's hottest acts, well known for such hits as "That Ain't My Truck," "She Said Yes" and the No. 1 "Don't Get Me Started." His boyish good looks, warm evocative voice and energetic stage shows made him a favorite with fans of all ages.
When the Decca label closed its doors, Akins released one project on Audium Records before just deciding to get back to the basics—the road, the music and the fans. "I just love to get out there in front of people," says Akins. "I love the whole live thing and in my opinion there's no authority in the world who can tell you when you are a singer and when you are not. It doesn't have anything to do with having a record deal."
"Just because you don't have a show on the outdoor channel, doesn't mean you're not a great hunter and you don't kill a lot of deer that year. If you love to do something, that's what you do. I feel like having a record deal and songs on the radio are just a bonus."
Akins is a country singer. That's what he does, so even in times when he was absent from the radio, he wasn't far from the fans. He's spent the past five years performing more than 100 dates a year on the Honky Tonk Tailgate tour with pals David Ball, Daryl Singletary, Jeff Carson and Wade Hayes. Akins began playing new songs he'd been writing and was buoyed by the response. "Those songs were just going over almost bigger than 'That Ain't My Truck' or 'Don't Get Me Started.' People were cheering for them and you could tell that there was excitement going on with the new songs, even though they weren't getting played on the radio. So I got really excited about the reaction I was getting from my songwriting."
"If I just stayed at home and wrote songs and was never on the road, I wouldn't know what people were reacting to, I would just be really out of shape musically," he says. "It's almost like being a boxer and you are constantly in the gym all the time working out, but you don't fight for eight months. It's easy to say, 'I'm not fighting for eight months. Why don't we start working out maybe a month before the fight?' But it's the eight months before you fight that is going to help you win that fight. So I considered my songwriting and touring my work out. I didn't know when my next fight was going to be. All I knew was working out and staying in shape for whenever it rolled around."
People Like Me, encapsulates the things that are most important to the artist. "My whole life seriously is music, the great outdoors and my kids," says Akins, who is the proud father of an 13-year-old daughter and 18-year-old son. When not spending time with his children, Akins loves the outdoors and is an avid history buff with an impressive knowledge of the Civil War.
It's that element of reality coupled with his willingness to be emotionally honest, even vulnerable, that are the hallmarks of the music Rhett Akins is writing today. "These songs right now are about the truest I've ever written," says Akins. "There is no filter in between what I want to say and what goes on paper."
On People Like Me, Akins says he tried to forge an emotional connection with the listener much like his musical heroes Waylon Jennings, Charlie Daniels and Hank Williams Jr. have done. He recalls the impact listening to Williams had on him as a young boy. "'Whiskey Bent and Hell Bound' is the song that changed my life and made me want to do this," he says. "When I first started getting into Hank, I didn't drink or smoke and hadn't been with a girl or nothing, but it was like they were just true songs. I knew somehow at 12 or 13 years old that this guy was telling the truth."
Akins has felt the impact of an honest song and he's seen his songs impact others. "I just think that after more than 10 years I know who I am and I know what I want to do and I'm not a slicked-up, polished artist," he says. "I wear a hat, T-shirt, boots and ragged blue jeans and I want to sing real songs. People have so many emotions. What I've tried to do on People Like Me is just try to tell the truth in many, many different ways."

Courtesy of Peach Pickers. All content © 2012 Peach Pickers. All rights reserved.