Paul Hornsby



Article by Ron Holland
The Georgia Music Channel
www.georgiamusicchannel.com
Paul Hornsby, born in Elba, AL, raised outside of New Brockton, AL and now residing in Macon, GA, is an icon to the Georgia music industry, especially when it comes to southern rock. Even though he's known for his studio musician work and for producing several southern rock bands, he has produced several other genres with success. Having been in the "trenches" organizing and playing with rock n' roll bands in his early years and later producing numerous bands, Paul has a talent that places him at the top level in his field and has been awarded a total of nine gold and four platinum albums for his efforts. His contributions to Georgia music is enormous and we pay tribute to him for his tireless dedication and superb talent.


Since the 1960's, Paul has worked with or produced numerous great musicians – Duane Allman, Gregg Allman (Hour Glass), Dr. John, The Marshall Tucker Band, Wet Willie, Chuck Leavell (currently Rolling Stone's keyboardist), Charlie Hayward (currently bass guitarist for The Charlie Daniels Band), Charlie Daniels, Arthur Conley, Livingston Taylor, Grinderswitch, Eddie Floyd, Janis Joplan, Kitty Wells, Bobby Whitlock (Derek And The Dominos / Eric Clapton), Randy Howard, Eric Quincey Tate, Neil Young, Johnny Sandlin and numerous others.

Paul was born with music in his veins. His father, an old time fiddler and guitar player, was his earliest influence. He was also influenced by Chet Atkins, The Ventures, the great organ player Jimmy Smith, Ray Charles and Mac Rebennack, better known as Dr. John. Paul says, "Dr. John is one of the greatest piano players in the world. I got a master's degree playing the B-3 behind him." Paul began playing guitar when he was 14 and later took up the organ and piano.

While living in Tuscaloosa in the mid 1960's Paul played in numerous rock n' roll bands. He eventually teamed up with Eddie Hinton and Johnny Sandlin, playing the Hammond organ and guitar, to form a band known as The 5 Minutes. He did his first professional recording with this band, who later was renamed The Men-its.


Later, he met Duane and Gregg Allman (Allman Joys at the time) and joined forces with the two. The Allman Joys and The Minutes-its had dissolved and they united as a new band. While Paul and the band were playing in St. Louis, The Nitty Gritty Dirt Band and their manager, Bill McEuen happened into the club to listen. After hearing them perform, McEuen immediately called Liberty Records and told them he'd discovered the next Rolling Stones. He decided to stay over another night and met with the band the next day asking them to move to California and promised them a label deal with Liberty Records. After a "long and hard five minutes" of thought, they agreed and moved to Los Angeles. The band became known as Hour Glass and completed two albums for Liberty Records. However, the label could never capture the right sound in their studios and California could not grasp the Southern Rock sound, considering The Beach Boys, Jan and Dean and surfing music fit the California style at the time.


While with Liberty, Hour Glass played all the big California venues – Fillmore Auditorium, Avalon Ballroom, The Whiskey-A-Go-Go and others. They played concerts with Jefferson Airplane, Buffalo Springfield, The Animals, Janis Joplan, and many more great music artists. Unfortunately, Liberty never produced a hit record and the band broke up in late summer of 1968.


Paul went back to Tuscaloosa, AL and organized a band named South Camp consisting of Chuck Leavell, Bill Stewart, Charlie Hayward and himself. They played together until 1969 when Paul was called by Duane Allman to come to Muscle Shoals and lay down some tracks with him and Berry Oakley. The cuts from this session were later released on the "Duane Allman Anthology" LP.


During the sessions in Muscle Shoals Paul met Phil Walden, who was Duane's manager and accepted an offer from Phil to become a staff musician at Capricorn Studios in Macon, GA. Eventually, Paul became studio manager for Capricorn and also began producing.


One of Paul's earliest projects, was producing the Marshall Tucker Band's first album in 1973. They had been opening concerts for The Allman Brothers Band. After two months of fifteen hour days, the album was completed and self-titled "The Marshall Tucker Band". The LP was released in 1973 and was certified gold in 1975, with the single "Cant You See" making the Hot 100 Billboard charts. Six other gold albums and three platinum albums, including "Carolina Dreams" in 1977, would follow.

You could hear the distinctive Paul Hornsby piano style in songs on all the albums. Prior to "Carolina Dreams" being recorded, Paul remembers entering MTB's dressing room at a performance. He had not heard any of their new material for their upcoming album and asked Toy Caldwell if they had anything to record for the next session. Toy had a tuning amp in the dressing room and told Paul to listen and tell him what he thought. As he played and sang, two other band members began harmonizing. Paul was "blown away" and immediately told them, "that will be your first hit single." That song was "Heard It In A Love Song", which went to #10 on the Billboard charts and became their biggest selling hit. Paul says, "from the first day in the studio, we approached that song as being the single. We purposely kept it short, with just the required guitar, flute, piano licks added. This was such a melodic song. I wanted every note whether played or sung, to stick in every listener's head." The last studio album he produced for MTB would be "Carolina Dreams", which included the song "Heard It In A Love Song". In late 1976 he produced some live recordings in England, which were not released until 2003. This album was named "Stomping Room Only".


In 1974 Paul left Capricorn and became an independent producer. Charlie Daniels had played fiddle on several MTB songs that Paul produced and Paul had already spotted Charlie's amazing talent. He produced four albums for The Charlie Daniels Band who charted hits like "The South's Gonna Do It Again" and "Long Haired Country Boy" ("Fire On The Mountain" album released in 1974). Paul says, "that album was one of the musical high points that I'm proudest of. There have been many other moments but that one is very strong." He also produced other music artists such as The Wet Willie Band ("The Wetter The Better" and "West Coast Live"), Kitty Wells ("Forever Young"), Bobby Whitlock ("Rock Your Socks Off"), and countless others.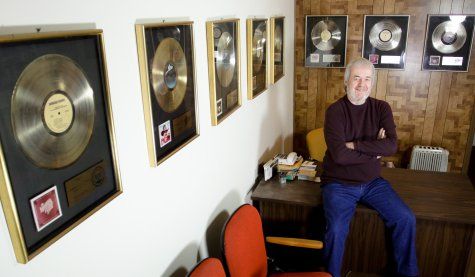 By the late 1970's Capricorn closed and there was no studio to work out of, so Paul took a much needed three years off and rested up. One day he received a call from a close friend, Randy Howard, who asked him to lay down some demos. Paul had set up some simple recording equipment in his home and told Randy to come on over, thinking it would just be Randy and his acoustic guitar. Randy showed up with his entire band and equipment. Paul said, "we moved furniture around, put an amp in the closet, the drums in a spare bedroom and turned on an eight track recorder." One of the cuts that got great responses from the clubs was "All American Redneck". So, Paul recorded the audience's sound only at a club and synced it with the studio recording to make it a "live" version. That song got a record deal from Warner/Viva and the album, "All American Redneck" went to #41 on the Billboard Country charts. It all started from a "bedroom studio" demo.


With Paul being off for three years and now a "bedroom demo" being a success, he started looking for a building to set up his full-time studio. He found it and still occupies the same building. The studio is known as Muscadine Studios located at 3078 Vineville Ave., Macon, GA (478) 745-2401. It has some of the latest and vintage equipment and a rhythm section of some of the finest players in the country.

In 2010, Paul was inducted into The Alabama Music Hall Of Fame. Paul Hornsby Day was also celebrated in his hometown of New Brockton, AL and a mural was unveiled containing his likeness in Dothan, AL all in the same year. Most recently, he produced a CD, ("Lip Service"), by Dublin, GA native E. G. Kight. It has been well received and recently was #1 on B. B. King's Bluesville XM Radio Channel.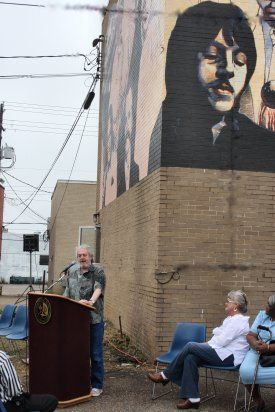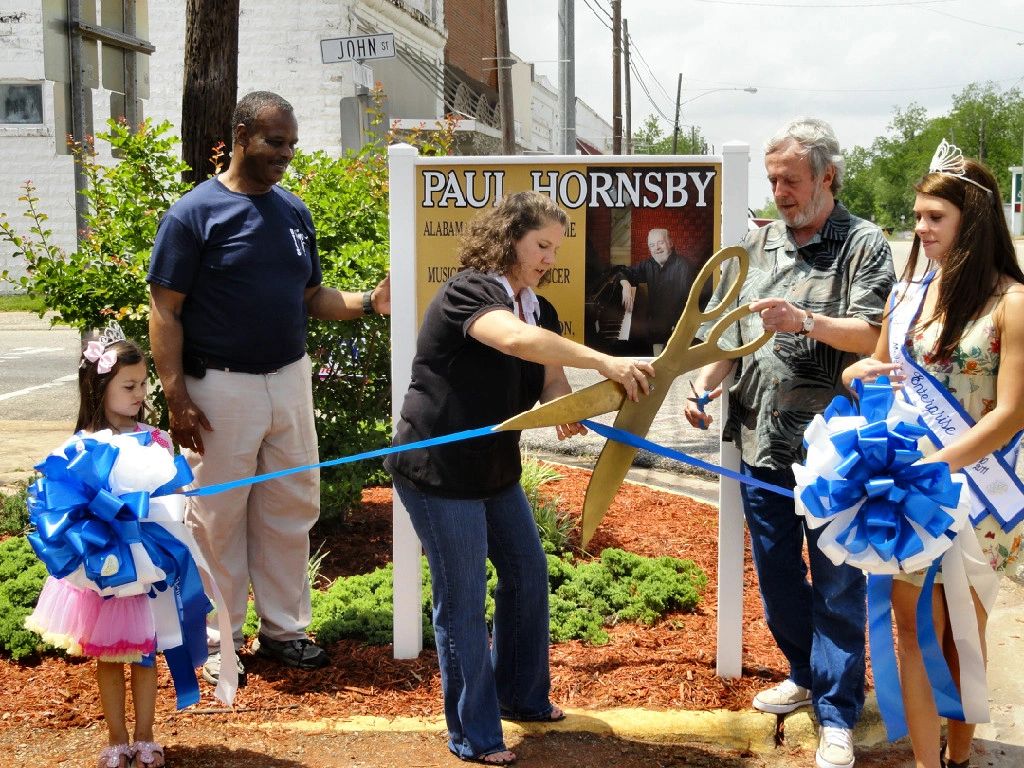 A
ll information was confirmed and published with the consent of Paul Hornsby.
All rights reserved 2012.
Credits: Thanks to Michael Buffalo Smith for his contribution to this article.