Ron Holland
The Georgia Music Channel
http://georgiamusicchannel.com
VIEW PHOTOS
COVINGTON, GA (GMC) - Covington had its share of Georgia music artists performing at Party
On The Farm Georgia with a total of six that put on a great show for the fans. Headlining the
event was Lyons, GA native and Nashville recording artists, Craig Campbell, along with Highway
55 (Dawson), Jordan Rager (Loganville), Taylor Marie (Covington), Ashley Walden (Covington)
and Drew Parker (Covington). Adam Potts with Six String Southern Productions told us "this is
something that I've always wanted to do. I wanted to give the fans a show they'd really enjoy and
it was great to have all six of these great Georgia music artists performing tonight."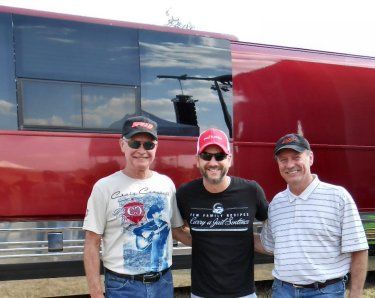 We spoke with Craig Campbell, signed with Bigger
Picture Group, after the sound check. After leaving
Lyons, GA about 11 years ago, he moved to
Nashville. He told us, "I feel so fortunate to have all
the fans that supports me and my music." While he's
an humble and true gentleman, he's a giant in the
country music business. Released over one year ago
his song "Outta My Head", from his album "Never
Regret", moved up three positions on the Billboard
country charts to # 15 and has remained on the
charts for 51 weeks, approaching a record for
longest running single on the charts. Campbell's
prior hits were "Fish", "Family Man and "When I Get
It". Be on the lookout for his next big hit.
The Georgia Music Channel is picking Craig's next big single to be "Keep Them Kisses Comin",
which was written by Peach Pickers Dallas Davidson and Ben Hayslip, also from Georgia.
Highway 55 just got off a national tour and have had a busy schedule across the country. They
made it back to their neck of the woods to perform in Albany Friday, then headed straight to
Covington for this show. We asked Cody Smith how it's been out on the road considering the
busy schedule. He said, "well you know, we were playing so many consecutive nights that we had
to add some songs to our playlist. We had gotten up to playing about 80 songs, which is a lot. It's
been great and so enjoyable to get out there playing for the fans. We've got a great group of
guys and we love what we're doing." While on the road they've opened for artists like Toby Keith,
Sawyer Brown, Credence Clearwater Revival and others.
When Cody and the band hit the stage Saturday night, they did what they do best.....put on a
great show and performance for the crowd. They performed their new single "Sundown", getting
crowd involvement going.
Jordan Rager, Taylor Marie, Ashley Walden and Drew Parker also gave awesome performances
to round out the show.
Share This Page