An Interview With Lauren Ashley
By Ron Holland
The Georgia Music Channel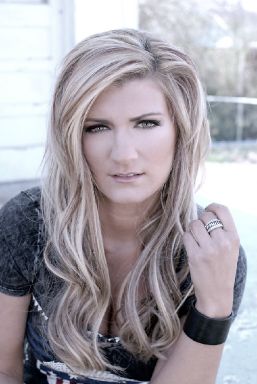 Lauren Ashley, raised in Griffin, GA, is talking with us today. She's been singing since she was a
toddler and music has always been a big part of her life's story. While attending good ole' Georgia Southern University, she performed at popular venues, became the Georgia Southern University Idol
winner, won first place in a national songwriting competition and cut her first EP with the original single
"Cold November." She's opened for legendary Ronnie Milsap and for Georgia's sensation Luke Bryan
as part of his 2011 Farm Tour – all those events in a matter of a few months. She's a talented singer-
songwriter, she's energetic, focused on her music and on top of all that, she's got a great personality.
We're glad to be talking with her today.

RON : Hi Lauren. Thank you for being with us and thanks for the contributions you're making to
Georgia music.

LAUREN : Hey Ron! Thanks for having me! And well, you're welcome! Growing up in Georgia and
having so many awesome things happen to me in this state has really made me feel
extremely blessed and proud to represent Ga in the big Music City!

RON : Last year must have been a whirlwind for you. You were a busy young lady. Share with us
what it's been like.

LAUREN : Wow. It's crazy. Literally. My life changed dramatically in a matter of months, and to be
quite honest with you, I don't think I was prepared for it at first! Talk about anxiety! I went
from being a regular college student, to winning Ga Southern Idol, to recording my first EP,
to touring with my band throughout Georgia, to moving to Nashville, to working with some
of the industries top songwriters, to recording with the best studio musicians in Nashville,
etc. all in a matter of a year/ year and a half. Sounds crazy right?! I never really thought
anything like this would happen to me, but I have truly been blessed. I can only give thanks
to God for having the faith in ME, to pursue my dreams! I have had SO much fun over the
past year or two and am SO excited for things to come in the future as well. It's only getting
started!

RON : As we mentioned, you're from Griffin, GA and you moved to Nashville last year. What is it
like living and working in Nashville? Has it been what you expected?

LAUREN : Living in Griffin, GA since I was born, and then moving to such a big city was definitely a big
change. BUT, it was the best move I've ever made! It has been an absolute blast living and
working in Nashville. Making the move to Nashville has also helped me tremendously
business wise, just by getting to know people in the industry, learning how this crazy town
works… ecause believe me, it's definitely not what it seems from the outside looking in! I
have learned so much in a little time that I didn't know before moving here, so I can say
without a doubt it has been great!

RON : You won the national songwriting competition for the "Wake Up Nashville" event, a reative
concept of music industry legend Bob Saporiti, to raise awareness for Narcolepsy. You were
invited to perform your award winning song, "Cold November" at the Country Music Hall of
Fame September 29, 2011. Winning that competition had to be a thriller, but you had to be
ecstatic sharing the stage with some very successful singer-songwriters, a few with Georgia
roots such as Tyler Hayes, from Thomasville, GA, who had her songs cut by Little Big Town,
Hillary Duff, BeBe Winans and others. While not from Georgia, Craig Monday wrote a song
that Mark Wills, a Georgia platinum recording artists, cut. Craig also wrote for Kenny
Chesney and more. Then of course a few others performing that same night were the Mulch
Brothers, Bobby Wood (Elvis, Garth Brooks and more) and Dave Gibson / Daisy Dern
(several top 40's & 6 #1 hits) . Tell us about winning the competition and the night of your
performance.

LAUREN : Winning the "Wake Up Nashville" competition was amazing. I have to be honest with you
here though, it wasn't until the day before the deadline to enter songs to the writing
competition that I even thought about entering it! I received a call from my dad telling me he
got word of the competition via email, and he told me that I should enter it. Honestly, I didn't
really even give it a second thought. I thought to myself, "Ok, there are SO many amazing
songs/songwriters out there.. what makes me think that I could win something like this?!"
However, I entered the writing competition any way with two of my original songs, "Cold
November" and "Drive". Come to find out a few weeks later, "Cold November" had WON
and "Drive" also cam e in the top ten at number 3. I was totally shocked and thrilled!
Performing at the Nashville Hall of Fame and Museum was, however, the highlight of the
entire thing! I had never even been there, so it was pretty awesome that I was able to SING
there for my first time! Pretty cool, right? That night was just amazing... Meeting songwriters
who I have looked up to for so many years and not to mention, sharing the stage with them!
It was such an honor! It was also so great to meet the other winners in the competition as
well and to hear their talent! There was so much! I will never forget that experience! It was
honestly a break through moment for me in my career!

RON : The video produced by Wake Up Nashville or Awaken The Cure, I'm not sure who
produced it, promoting awareness of Narcolepsy and the Wake Up Nashville concert
features your song, "Cold November." That's pretty cool. By the way, you looked stunning
and ready for your performance. The video can be seen on our website @
www.georgiamusicchannel.com on your artist page.

LAUREN : Well, thank you! You are too kind! It is super awesome that "Cold November" is featured in
the video and again, such an honor! Thanks for sharing it!

RON : You not only sing, you're a songwriter also. How do you best describe the songs that you
write?

LAUREN : I can really describe my songs in one word: honesty. Every lyric of every song that I have
written has come from somewhere way down deep inside of me that even I didn't know
existed. Writing has become a form of letting go of so many emotions that I feel/have felt
in my lifetime, and it all comes to me just being honest with myself. After listening to my
songs, listeners will know exactly who I am, even without ever meeting me! I write songs
about breakups, love, revenge, life, good times,etc. and I think that people can relate to all
of that.

RON : Have you collaborated and written any songs with other songwriters?

LAUREN : Yes, I have! In my first EP, I co-wrote with a guy named Jeff Chandler, with my sister, Haley
Redmond, and my producer for that EP, Trey Roth. When I moved to Nashville, I was lucky
enough to have the chance to write with Michael Huffman, who has written a number of hits
from Gary Allen, George Strait, and Kenny Chesney.. just to mention a few! Also, Dean
Scallon, and Jeff Silvey. I have also recently written with a Milledgeville, GA native,
Thomas Archer who definitely has a bright future ahead of him with his writing!

RON : You've opened for Ronnie Milsap and Luke Byran. Coincidentally, we recently had Archie
Jordan, a Georgia songwriter, as our Featured Artist that wrote some of Ronnie's major
hits (back in the day), "What A Difference You've Made In My Life" and he co-wrote "It's
Was Almost Like A Song", to name a couple. Tell us about your experience opening for
Ronnie and Luke? What were some memorable moments?

LAUREN : Wow. Both of those events were just amazing! Opening for Ronnie Milsap was SUCH an
honor. I mean, he is a LEGEND so who wouldn't just be thrilled to have that opportunity! I
got to meet Ronnie ( for a split second!) and he was so nice! One of the highlights of my
career so far! Opening for Luke was well, I mean… I really don't even know how to describe
it. That Farm Tour show, by far, has been THE best time I have had to date. Luke and his
crew were SO nice to my band and I and they made us feel totally at home. Not at all like
just "another opening act". I still remember walking on to the stage and seeing the
THOUSANDS of screaming fans in the audience and it literally took my breath away. I think
that was the moment that solidified the fact that this is what I want to do with the rest of my
life. Be a country music artist/entertainer. After the first couple of minutes it took for me to
actually breathe (haha!) the show went flawless and we had such an amazing time! After
we performed, the amazing Dallas Davidson and Rhett Akins performed acoustic versions
of hit songs they have written, then the one and only Luke Bryan took the stage. It was so
cool to be able to watch from behind the stage and just take it all in. Like I said, that was a
night that I will NEVER forget. Hopefully I'll have some more like that soon! ;)

RON : The first time in the studio had to be exciting and at the same time the emotions had to be
jumping all around. Tell us about that.

LAUREN : I was SO nervous! The first time I got in the vocal booth, put on the headphones, and got
behind that mic, I literally was shaking. I had no idea what I was going to sound like, how
we were going to do this… but after the first warm up take, I was ready to go! After that, I
felt completely at ease and ready to rock the songs! Not to mention, my producer, Trey
was SUPER encouraging and made the whole experience so great!

RON : I know I've been "bending your ear" (for those of you that don't know, that's southern for
talking a long time, lol), but if you'll answer a couple of more question, I'd appreciate it.

LAUREN : Of course! I love it.. ask away!

RON : What are you doing musically currently and what's on the horizon?

LAUREN : Well, we just recently finished recording a 5 song EP here in Nashville and are now just
waiting on some big things to happen that I hope I can share soon! ;) However, in the mean
time, my band and I are just playing shows, playing shows, and well… playing shows! I am
so blessed to be accompanied by such an amazing and supportive group of guys and I
have SO much fun with them. It makes my job even more fun than it already is being with
those guys! We have so many stories, inside jokes, etc. that keep us laughing constantly!
When I am not on the road, I go to voice lessons twice a week with my amazing voice
coach, Janine Le Clair, and also continue to write. I believe you can never have too many
songs, so I try to schedule writing appointments as much as possible! Life is busy, but I
absolutely love it!

RON : Well, we're playing your song on our radio station. We've got you on our website and our
GA Artists page where fans can find out more information about you and listen to your
music @ www.georgiamusicchannel.com . Also, fans should visit your website @
www.laurenashleymusic.com . Tell everybody the CD title and where they can purchase
your CD.

LAUREN : Well, first off, I appreciate you more than you know for even considering me for your station
I take a lot of pride in my home state of Georgia, so it is just an absolute honor for my song
to be on the Georgia Music Channel! My first self-titled EP, "Lauren Ashley" , available on
iTunes and also on CDBaby.com under "Lauren Ashley". I have not been given permission
to release the newest EP that we have recorded; however, I hope to be able to release that
soon! In the meantime, listeners can take a look at my website and check out my show
dates and try to make one of the shows in their area! I recently added all 5 of my new songs
to the set list, so even though they are not available for purchase yet, ya'll can still check em'
out! ;)

RON : I've really enjoyed talking with you and I appreciate you sharing your story with us. Our
mission here at The Georgia Music Channel is about preserving the history of Georgia
music artists and we're proud of your accomplishments and what you're doing to add to
Georgia music. You're a great talent and a very nice young lady with a bright future. Your
#1 song is just around the corner. Keep up the great work and thank you for what you're
doing to continue Georgia music history.

LAUREN : Thank you so much, Ron. Again, I cannot express how thankful I am that you guys at The
Georgia Music Channel reached out to me. It is such an honor to be in the same category
as so many other amazing artists that are from Georgia, and I can PROMISE you, I will do
everything in my power to keep the history of Georgia music artists going strong! Thanks so
much for having me today and hopefully we can chat again in the near future!