Dallas Davidson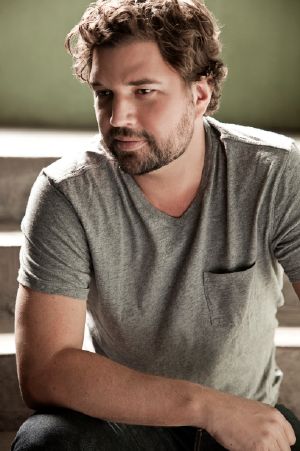 There's a story Dallas Davidson likes to tell about his move to Nashville. Within a few months of arriving in Music City from his hometown of Albany, Georgia, someone smashed the window of his truck and attempted to steal his CD player. The thief was unsuccessful, but did manage to render Dallas's stereo useless—robbing the budding songwriter of a way to hear his very first hit, "Honky Tonk Badonkadonk," on country radio.
"I couldn't afford to get my stereo fixed. I moved up here with my little truck and $700 in my pocket," he recalls. "But one day I was riding in someone else's car and the song came on. I finally heard it for the first time."
These days, Dallas likely can't go anywhere without hearing his songs on the radio. And there are many: He's had more than 100 of his compositions recorded. With 13 No. 1 singles to his credit—Brad Paisley and Keith Urban's "Start a Band," Josh Turner's "All Over Me," and Blake Shelton's "All About Tonight," among them—he has become one of Music Row's most in-demand songwriters. Artists clamor to interpret his material, fellow writers vie for a session, and music-industry institutions regularly recognize his merit.
He is the 2012 ACM Songwriter of the Year; a 2012 ACM nominee for Song of the Year (for Lady Antebellum's "Just a Kiss"); the 2011 BMI Country Awards' Songwriter of the Year (an honor he shared with friend and collaborator Rhett Akins); Billboard's Hot Country Music Songwriter of 2010; and is currently Vice Chairman of Georgia Music Foundation.
He is also a recipient of three CMA Triple Play Awards, one in 2010 and two in 2011. The coveted honor recognizes the rare feat of achieving three No. 1s in a year's time. Over two years, Dallas had nine.
"We've had some success," Dallas says humbly. "I just try to keep things simple and often write with only two chords. Some people think that's easy to do, but it's actually harder to do. Because you have to differentiate the melody of the verse and chorus over the same two chords." But when all the pieces fall into place, the finished product kicks with all the force of a mule. "You just know when you have a hit," Dallas says, citing "Gimmie That Girl" as an example. "When we wrote that, we knew we had something special."
Dallas was right—Joe Nichols ended up taking the song all the way to the top…just like several other artists have done with Dallas's crisp combination of lyrics and melody. Justin Moore did it with "If Heaven Wasn't So Far Away." Billy Currington did it with "That's How Country Boys Roll." Blake Shelton did it with "All About Tonight." And Lady Antebellum did it with both "We Owned the Night" and "Just a Kiss."
It's those last two of his 13 No.1s that Dallas is particularly fond of. Because while the avid outdoorsman may excel in country songwriting (he and Akins even released their own CD of hunting and fishing songs, Bone Collector: The Brotherhood Album), he's proven he also has the skills necessary to pen a perfect crossover gem. Case in point: "Just a Kiss" hit No. 1 on Billboard's Adult Contemporary chart and broke into the Top 10 on the Hot 100.
"I get pigeon-holed as a hillbilly writer, but that is so far from the truth," Dallas laughs. "Yes, I wrote songs like 'Honky Tonky Badonkadonk' and 'Country Girl (Shake It for Me),' but I'm not defined by that type of good-time music. Lady A came along and recognized that. They recognized my potential and I'm proud of that."
He also feels a special pride for the success he's had with fellow Georgia boys Akins and Ben Hayslip. Known collectively as the Peach Pickers, the powerhouse trio has had its songs recorded by artists from Jack Ingram ("Barefoot and Crazy") to Brooks & Dunn ("Put a Girl in It"). "Rhett, Ben and I all have the same work ethic," Dallas says of their shared chemistry. "We know that something good will happen every time we write." Which is also true when Dallas collaborates with Luke Bryan. Longtime friends from the same small town, the pair is responsible for three of Bryan's No. 1s: "Rain Is a Good Thing," "Country Girl (Shake It for Me)" and "I Don't Want This Night to End." It was Bryan, in fact, who encouraged Dallas to leave their home state for Tennessee. "Luke is the one who steered me to Nashville and said give it a try. He's a big part of the reason I'm here," he says. "And now we've had three big hits together. It's crazy to think that two guys from South Georgia can come up here and have that kind of success."
Still, despite all of Dallas's accolades, he's always happy when others have their piece of the pie. He lights up when talking about the hits of other musicians, even if he didn't write them. As he readily acknowledges, one can't exist without the other. "I'm always pulling for the artists. We can't make a living if they don't record our songs and sell records," says Dallas. Yet he's also in the corner of his fellow songwriters. "I like to support them, too," he says. "There are guys and girls working their tails off up and down Music Row, and they are making the artists' careers. Without their songs, there's no album, concert or even T-shirt. It all starts there."
For Dallas, that creative process is just a regular part of his day. He's always brainstorming, always listening, always observing. "I watch the world to learn what people outside of this crazy business do. And they're not much different from me. Before I came to Nashville, I sold land and dabbled in farming," he says. "When I get back to my writing room, I try to write about those things in life that we've all experienced." Step one: a catchy melody. "You've got to have a groove. You've got to have a feeling. Then everything else falls into place," Dallas says, a nod to that intangible It that drives each and every one of his writing sessions. "When I write, I want to write something that people can latch onto and sing along with. I'm trying to get a person to roll down the window of their car." He pauses and cracks a smile, remembering his old pickup and its busted window. "Or," he adds, "their truck."
Copyright © 2012 Dallas Davidson. All Rights Reserved. Source: http://dallasdavidson.com / Used With Permission.