Craig Campbell Has Record Label Deal In The Works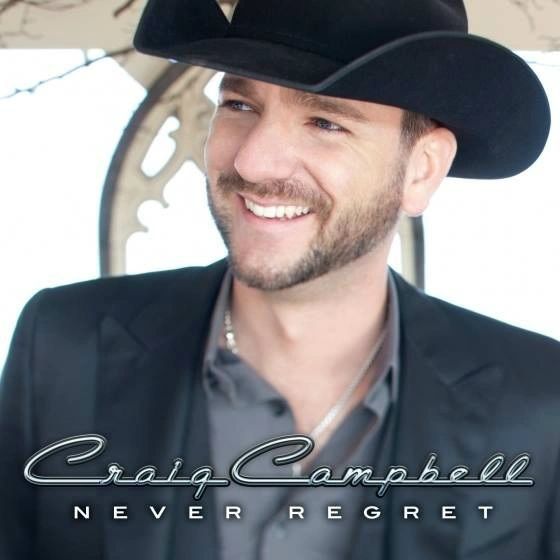 Last October we met up with Craig Campbell at Party On The Farm in Covington, GA. " Outta
My Head ", from his Never Regret album, was really going strong, peaking at #15 on the
Billboard Country Airplay charts and spending 54 weeks on the charts, nearly surpassing Lee
Brice's " Love Like Crazy " run of 56 weeks. " Out Of My Head' " was written by Michael Carter,
Brandon Kinney and Georgia's Cole Swindell.
After talking with Craig and Jamie Michael last October, Craig's guitarist, I felt that " Keep Them
Kisses Comin' " would be the next single to be released from the album. We'd already been
playing it on our radio station for several weeks, since it's such a great song. We felt this would
be Craig's next big hit and sure enough it was released December 2013 and April 2014 became
his highest charting single peaking at #7 on Billboard's Country Airplay chart and reaching #15
on Billboard's Country Songs chart. " Keep Them Kisses Comin' " was written by Georgia
songwriters - two of The Peach Pickers, Ben Hayslip and Dallas Davidson. During all this great
success, Craig's label, Bigger Picture, closed its doors a month later, but Craig kept charging
ahead reaching new goals, scoring his highest charting single and constantly touring the country
performing his songs. He attributes that success to his fans, telling us, " I have the best fans in
the world. They are the reason I get to do what I love and I love seeing their faces at the shows.
I am here to stay and I hope they are too."
Craig hasn't forgotten his roots growing up in rural Lyons, GA and was able to make it back home
recently for the annual Real Squeal to perform where his mother made his introduction and sang
with him on stage and his daughter, Preslee, performed the National Anthem at his high school's
football game.
Ron Holland with The Georgia Music Channel caught up with him to talk about the Real Squeal
concert, his last two recent hits, "Outta My Head" and " Keep Them Kisses Comin' " and to
discuss what's new.
Ron:
Hi Craig, so glad to talk with you again. I think the last time we talked was when we caught
up with you at Party On The Farm in Covington, GA.
Craig:
Yes it was a while back. That was a fun day for me. I got to play country music for my GA
folks and that is always fun!!
Ron:
I know you had a blast at this year's Real Squeal in our hometown, in Lyons, GA. Tell us
about that.
Craig:
It was extra special to play the Real Squeal since Lyons is my hometown. The Real
queal had been trying to get me to play for the BBQ Fest for a couple years now but the
schedules never allowed it. It was a good day! My daughter Preslee got to sing the National
Anthem at my high school's football game that night which was pretty cool. The show was great
that night and my mama introduced me as well as got on stage and we sang together. Very
special moment.
Ron:
Man, it doesn't get much better than that. Last October when we talked " Outta My Head "
was going really strong, reaching #15 on Billboard's Country Airplay charts AND after 54 weeks
of staying on the Billboard charts you almost broke Lee Brice's single, " Love Like Crazy ", for
the longest running single, missing it by only two weeks. That must have been exciting, but at the
same time a bummer missing breaking the record by only two weeks.
Craig:
Yeah I was looking forward to breaking that record but I'll take 2nd. That was a testament
to the song itself to be on the charts that long. We knew it was a hit song when we released it
and after about 9 months we started calling it "The little song that could" because it just wouldn't
go away which was a good thing. I am very proud of that song.
Ron:
One of the songwriters, Brandon Kinney, told you he wasn't going to shave until you were
through with the song (dropped off the charts). I guess his beard must have been pretty long
after the song running for 54 weeks. During the StageIt Show in October of last year, a perform-
mance supporting Breast Cancer Awareness month, you got to do something special with
Brandon. Tell us about that.
Craig:
Brandon said he made a deal that he would not shave for as long as that song was on
the chart. Little did he know it would be over a year! When the song was done, I told him I wanted
to shave his beard on camera during a StageIt show and he agreed. He came to the house with
his family that night and I think his wife was more excited than anyone that his beard was coming
off.
Ron:
I bet she was!! From what I saw with " Outta My Head's " popularity and just how great the
song is, I really expected that song to make it to #1. That must have been a little frustrating being
that close. Sure had a long run on the charts.
Craig:
I agree. Had that song moved a little faster up the chart, I have no doubt it would have
been #1.
Ron:
Still a huge hit for you though and a great job that you did with that song.
Craig:
Absolutely. That song did great things for me. It is still a song that gets great reaction at
my shows.
Ron:
December of last year you released " Keep Them Kisses Comin' ", written by Dallas
Davidson and Ben Hayslip. When I spoke with you and Jamie last October, I had this feeling it
was going to be the next release. We had already been playing it on our radio station and felt it
was going to be your next big one and sure enough, it became your highest charting single and
first Billboard Top Ten hit. With your label, Bigger Picture, closing their doors during the ascent
of the song on the charts, how did this affect you and to what do you attribute as being the single
most thing that made it such a success, especially without the label's staff to push it?
Craig:
This song was moving faster than any of my other songs thanks to Clear Channel
choosing it and me as the first "On The Verge" artist. When the label closed it was sitting at #13.
It was definitely a deflating blow. But with the relationships I have at radio and the friends I have
we were able to push that song 6 more spots to #7 which was my highest charting song to date.
Ron:
I know it's probably been an adjustment, but you seem to be someone that finds "the silver
lining in a dark cloud" and seem to have adjusted well. You've dug in and found a way to make
this song a success. One things for certain your fans are behind you, we're behind you. The fans
flock in to see your concerts and with the quality performance that you give them and the music
talent you have, deservingly so.
Craig:
I have the best fans in the world. They are the reason I get to do what I love and I love
seeing their faces at the shows. I am here to stay and I hope they are too.
Ron:
You do have some loyal fans Craig. Keep that music comin' !! Let's talk about what's going
on now. I understand that you have some news about a deal you recently put together. What can
you tell us about that?
Craig:
I am in the process of signing a new record deal. I am also working on a new album and I
can't wait to give my fans a taste of the new music!
Ron:
That's exciting news. We'll talk again once you've got the record deal signed so we can let
the fans know who the lucky label is. We can't wait to hear the album and you can count on The
Georgia Music Channel giving it airplay. It's always great to talk with you Craig and it's awesome
to see the success that you've had and will continue to have. You deserve it. It's gratifying to see
a Georgia music artist, especially from the same town that I was born and raised in, represent
the music industry and their fans so well. We love your music, always have...always will. Thank
you so much for taking time out with us today and thank you for all you do for Georgia music and
for allowing us to document your musical heritage in Georgia music history.
Craig:
It is absolutely my pleasure! I always love talking to you guys. Oh....GO DAWGS!!